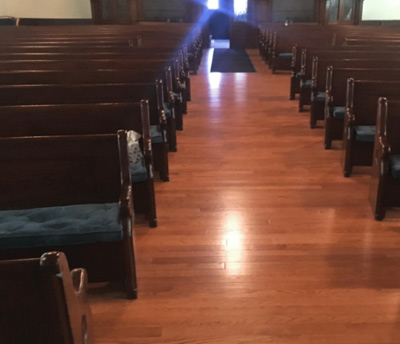 We consider church pew refinishing as more art than science. Every parish has a unique perspective on how they wish the pews to look, function, and feel. We wrote about our approach in a March 2021 blog post entitled Church Pew Refinishing Services and encourage anyone in need of pew repair or refinishing to read that piece.
We continue to be New England's most trusted pew refinishing repair specialists. We refinish and protect pews, church chairs, benches, pulpits, and more! We over a most cost-effective path to enhanced church beaty and functionality.
Our pew refinishing process is systematic and involves taking strategic small steps. We will not hurry through the process like those who are more focused on profit than they are on honoring the house of worship assets that we service. Refinishing pews is a form of professional art that we have perfected over the years. We welcome the opportunity to demonstrate to you personally exactly why New England churches have trusted us so often and for so long for pew refinishing services.
Of course pew refinishing is but one of many church repair and restoration services that we provide. We also offer custom radius pews, Hamlin kneelers & pads, bronze & marble statuary, and stained glass.
Please feel free to contact us anytime!