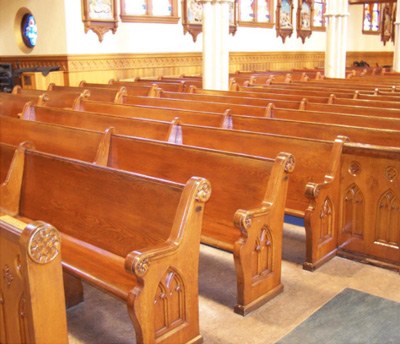 Hi everyone. In last week's blog post we covered the subject of our New England church pew restoration services. This week, we'll cover the subject of church pew refinishing services, a service we've provided as a company for over sixty years now. Out on that page, you see ten projects that serve as a representative sample of the church pew refinishing projects that we've accomplished over the years. Again, these are just a small sampling of our pew refinishing success stories. We'd love to show you more personally.
Take special note of the United Church of Christ project accomplished in Newton Ma. Egan was engaged by the parish for consultation on the new floor in the nave and refinishing the existing pews. We removed the existing pews and installed a new solid maple floor, re-installed the pews, and completed a light refinishing of the pews. There's a great story about the St. Ann Church in Quincy MA that we're very proud of and would love to show you more about that project. There we did floor work, refinished the pews, and installed new kneelers.
Refinishing pews is a form of professional art that we've perfected over the years. We'd love to demonstrate to you personally exactly why New England churches have trusted us so often and for so long. Call us here at Egan Church Furnishing and Restoration anytime.