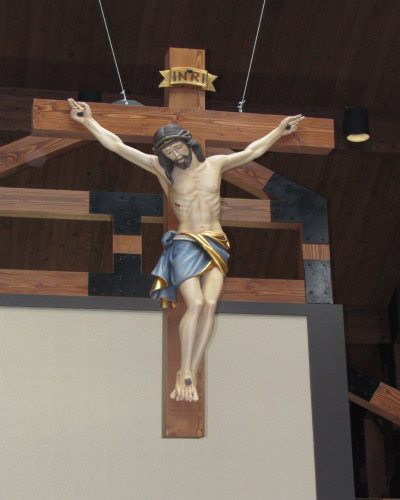 Take a moment to sit back, close your eyes, and think of the most inspiring churches that you've ever experienced. Chances are one of the things that will come to mind is gazing up at the altar and marvelling at the wood carved crucifix. The crucifix is one of the single most powerful symbolic representations in the entire world's culture. We stand ready and able to help make your church as awe-inspiring as that one in your head at this very moment.
For Christians, the crucifix succinctly represents the essence of who we are. We employ the crucifix in a large array of formats and sizes. Regardless of what you custom need for a wood carved crucifix is, we have a solution for you. Our heirloom-quality wood carved crucifix works of art range in size from 30-inches to larger-than-life versions in excess of 14-feet!
We started Egan Church Furnishing and Church Restoration here in Shrewsbury Mass back in 1960 with the intent to service the Christian Parishes of New England with quality church supplies at competitive prices, and with superior customer service. For more tips on wood carved statues or anything related to church supply and repair services, contact Egan Church Furnishing and Restoration today.