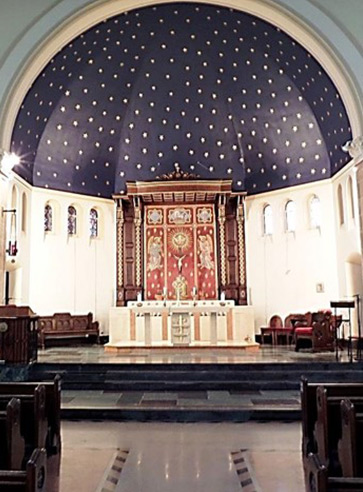 Houses of worship maintenance activities require church managers to execute exceptional scrutiny of service providers. The difference between the typical commercial painting firms and church painting service specialists like us here at Egan are quite profound. We'll boil it down to a single topic today, that being liability. There are several different ways to cover the subject of liability.
First, the inventory of truly irreplaceable works within a church (art, stained glass, antique written works, etc) create a situation where mistakes by a service contractor are multiplied exponentially. This mandates a degree of contractor insurability and bonding that typical commercial painting firms do not offer. When you hire a firm to paint your church, you must prepare for the worst-case scenario. We attribute the fact that we've never had to tap our insurance protection to our experience, process excellence, and the highest quality product offerings on the market.
Second, without doubt, we attribute our perfect customer satisfaction record to the grace of God. Nothing good in this world is achieved without it. When we enter your church to provide church painting and restoration services, we know exactly who the ultimate judge of our work is and are motivated each day to deliver an end result that honors HIM as well as you.
Painting churches requires a special attention to detail and focused concentration in order to not only cover walls and ceilings but to also preserve the priceless immovable artworks and masterpieces that adorn the church. We are very consistently intensely committed to preserving church heirlooms. We've provided this service as an Egan core competency for over sixty years now. Out on our page you will see fifteen projects that serve as a representative sample of the church painting projects that we have accomplished over the years. Again, these are just a small sampling of our church painting success stories. We will love to show you more personally.
Of course, to remind you all, here at Egan Church Furnishing & Restoration we do so much more specialize painting services. We can serve to be your sole source for the highest quality yet value priced church furnishings. Check out our Liturgical appointment catalogs that include works from celebrated artists such as Alviti Creations, Studio Demetz, Regal, and more.
We welcome the opportunity to demonstrate to you personally exactly why New England churches have trusted us so often and for so long. To learn more about our church painting services, contact us here at Egan Church Furnishing and Restoration.