New pew pads add functional comfort and beauty to your church. Today, let's show you how we cover old pews with extremely comfortable and highly attractive foam and comfort. The word is out regarding Egan's church pew restoration service excellence across New England. We began our church pew restoration service back in 1960 and the profound positive effect we've delivered to so many churches is what drives us all.
So, since pictures are worth a thousand words, we'd like to share with you today some images that represent a sampling of what we've done for others and stand ready, willing, and able to do for you and your church today as well!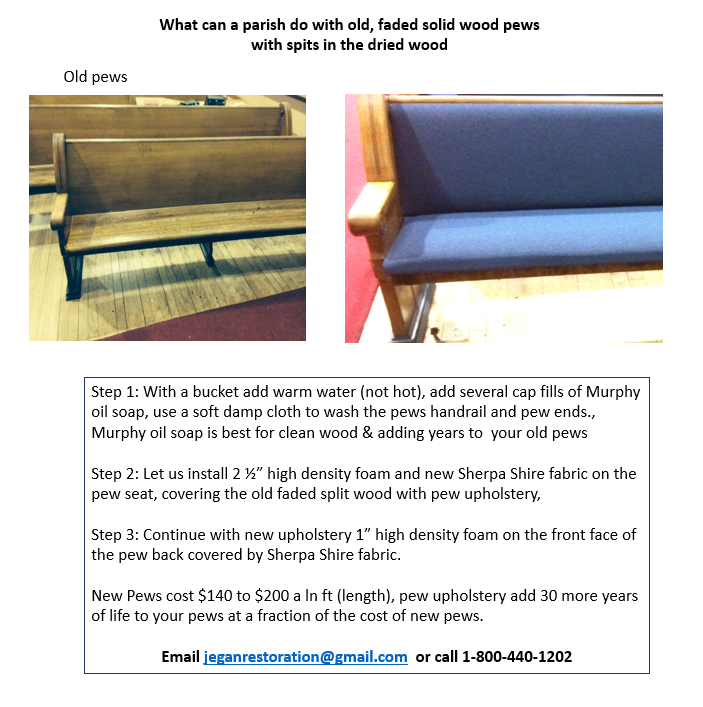 If your church's kneelers are becoming unsightly and/or functionally problematic, call us and begin the discussion about how you can affordably transform your church's look and feel via our celebrated church pew refinishing services. Let us assure you that we enter each and every parish across New England as if we're about to beautify and service our very own church. We consider it an honor to be able to provide quality and affordable church restoration services because, by so doing, it honors us, our customers, and of course, our God.
So, let's get started. Call us here at Egan Church Furnishing and Restoration anytime.