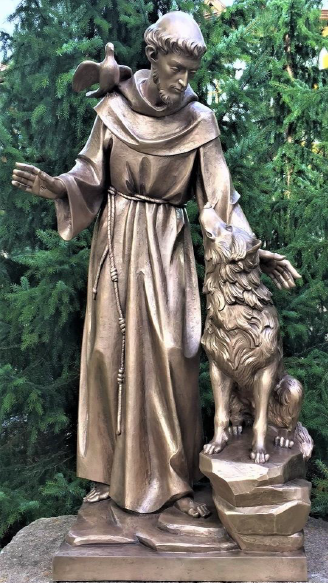 Hello everyone. Egan's Church Furnishing & Restoration (Shrewsbury, MA) is back with you today to announce another incredible opportunity from The Demetz Studio to beautify your church. Today we bring your attention to Demetz' life-size St. Francis with dove & wolf cast bronze statue. There are two things that make this particular a spectacular value and addition to your church.
First, the obvious. It is a Demetz product. They are simply the world's best at bronze statue production and churches across the globe proudly display their works. Second, for a limited time, we are offering free shipping on all statuary from the Demetz factory in Italy straight to your church! If you happen to be close to St. Francis of Assisi Church in Incline Village NV or St. Patrick Church in Scottsdale AZ, stop by and see what this world-renowned art does for their parish! You need to know that Cast Bronze and Solid Carrara Marble Statues from Italy's finest artists are memorials that will stand for centuries. Michelangelo Carrara marble still stands 500 years later.
The St. Francis with Dove & Wolf Cast Bronze Statue is life size at 72" tall. They have other models as well that we can gladly discuss with you. We can certainly work with you to customize your statue size, just give us a call!
Finally, just to remind, we offer a full range of church restoration and beautification services. Those services include (but are not limited to) custom radius pew services, church new stained glass and restoration services, church painting, and church restoration services
Contact us here at Egan's Church Furnishing and Restoration today!