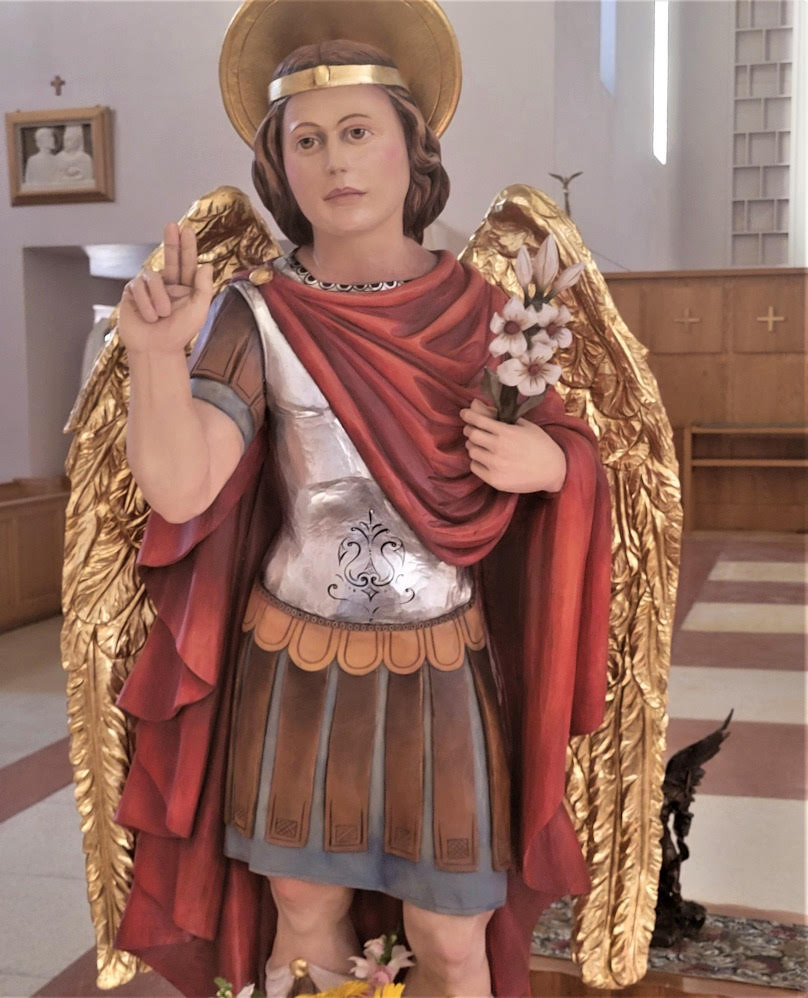 Hello everyone. Egan's Church Furnishing & Restoration (Shrewsbury, MA) is back with you today to simply share with you an example of how parishes across the country honor and beautify their church through us here at Egan's! Most recently, it was St. Gabriel the Archangel Parish in Franklin NH. The St. Gabriel Parish welcomed a new custom wood carved St. Gabriel statue by Egan Church Furnishing. St. Gabriel Parish requested a custom size and custom angel wings after consultation with Jim Egan, Principal of Egan Church Furnishing. St. Gabriel Parish requested full natural colors, hand painted features on St. Gabriel with highlights of beautiful gold leaf.
Egan Church Furnishing selected a custom studio in Italy to design and fabricate St. Gabriel the Archangel statue. Jim Egan, with over 35 years of experience importing custom wood carved statuary, personally managed the custom design, fabrication, and final delivery to St. Gabriel. Take a good look at this gorgeous work of art now prominently displayed at the church.
Just a bit about St. Gabriel. St. Gabriel is the archangel patron saint of all those who work in communications. The name Gabriel means strength. The bible prophecy mentioned Gabriel as the angel who appeared to Daniel and revealed the birth of John the Baptist. God also sent Gabriel to meet Mary of Nazareth and advised that she would be engaged to a man named Joseph. And that she will conceive a son to be named Jesus which means "Salvation". Gabriel is God's messenger, who announced the births of John the Baptist and Jesus.
Thanks for taking a moment to learn about our beautification of St. Gabriel, the Archangel Parish in Franklin NH. Just to remind, we offer a full range of church restoration and beautification services. Those services include (but are not limited to) custom radius pew services, church new stained glass and restoration services, church painting, and church restoration services.
Contact us here at Egan's Church Furnishing and Restoration today!