Eganchurchfurnishing.com team of Artisans
Newest Custom Carrara Marble Liturgical Furnishing
with Gold Mosaic Interior

Imported from Italy
Finest Artist Carrara Marble Quarries are found only in Carrara Italy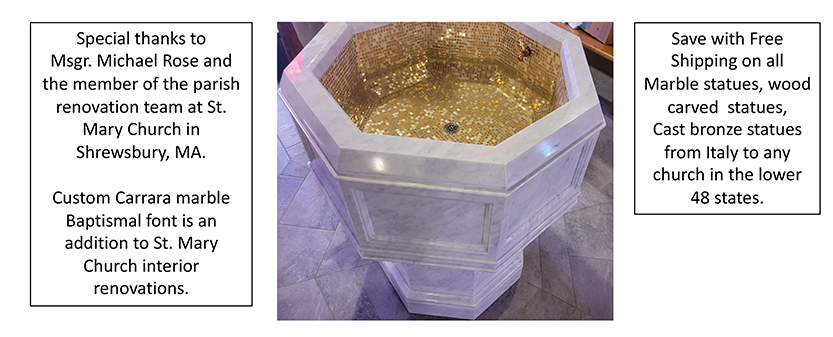 Michelangelo used Carrara marble over 500 years ago for his famous beautiful carved
figure of David & the Pieta. Michelangelo statuary is preserved at the Vatican in Rome.
St. Mary's Church selected eganchchurchfurnishing.com for their custom Baptismal Font for their quality craftsmanship and our door to door service. Jim Egan with over 35 years of importing Religious Altars, Pulpits and church statuary delivers liturgical furnishing for all denominations nationally.
Eganchurchfurnishing.com handles all paperwork and arranges delivery schedules from the marble sculpture door in Italy to your church front door. Jim Egan personal service permits a pastor to spend their time serving their congregation not being hassled by shipping companies.
For Quality & Personal Service call Jim Egan 1-800-440-1202
Email Jim Egan: jeganrestoration@gmail.com Eganchurchfurnishing.com