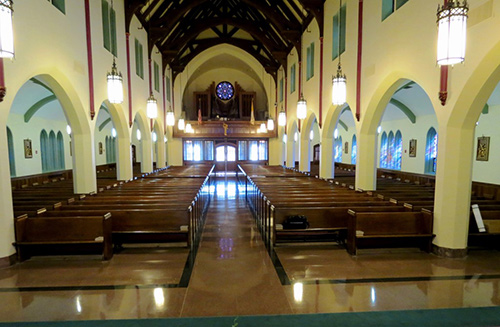 Sometimes it's hard for us to leave the church we just restored to its original beauty. We always take a moment, at the end of the job, to sit in the pews we just restored and reflect upon just exactly what we do for a living. However, the most rewarding feeling of all, is the gleam in the parishioner's eyes when they drop in and marvel at the progress. We love our profession, and your will love the multitude of church restoration services provided here at Egan Church Furnishing & Restoration!
Let's talk a moment about our church pew refinishing and restoration services. That services includes a combination of some or all of the following: the pews are stripped, repaired, stained and finished. It feels good to bring back to life the natural beauty of the church pews. With pew refinishing, the craftsmanship is of top quality that preserves the architectural and historical integrity of the church which is focused on quality while doing the restoration process.
Restoring church pews to their original beauty is a significant task to undertake. It is much more involved than simply sanding and applying new finish. Church pews take a beating over the years and require genuine craftsmanship to restore them to their natural beautiful state. Our work goes beyond wood though.
We deliver customized drop-in pew cushions that are tailor-made that provide comfortable back support. We've restored church pews for over sixty years now. Out on our pew refinishing page you can review sixteen projects that offer a representative sample of the pew refinishing capabilities that we possess. Again, these are just a small sampling of our Pew refinishing success stories. We will love to show you more personally.
We would love to demonstrate to you personally exactly why churches across New England have trusted us to beautify their parishes. Call us here at Egan Church Furnishing and Restoration anytime.