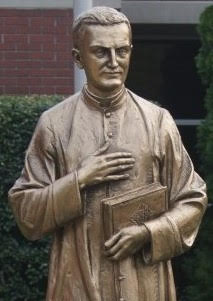 Hello everyone. All of us here at Egan's Church Furnishing & Restoration (Shrewsbury, MA) want to draw your attention to an phenomenal opportunity to honor the founding father of the Knights of Columbus, St. Michael McGivney. St. Michael McGivney the founder of the Knights of Columbus was beatified on October 31, 2020 at St. Joseph Cathedral in Hartford CT. But first here's some background on the Italy-based artists themselves, Demetz Studio.
The Demetz Studio created a life size 6-foot beautiful wood carved statue of St. Michael McGivney and is now available for $12,980. Demetz Studio is a multi-generation of fine religious sculpturers. Their products are available in custom wood carved, solid Carrara marble, and cast bronze figures. Custom sizes are welcome and priced on request. The Demetz Studio's St. Michael McGivney made of solid Carrara marble is priced on request.
Did you know Demetz's Studio marble statues are carved from the same marble quarries Michelangelo used over 500 years ago and found only in Carrara Italy? If integrating Michelangelo-quality raw materials into your church, just know that your opportunity is a phone call away.
Now, if you prefer cast iron, you might be pleased to know that cast bronze statuary by Demetz Studio are fabricated using the "Lost Wax Method" of casting bronze figures. Their artists hand sculpture a clay model then the finished clay model is used for casting a custom mold for each statue. This is the same methods of casting bronze figures as artesian have employed for thousands of years. We'll gladly arrange free shipping from Italy for you. And for those of you just getting to know us, know that we provide a wide range that includes (but is not limited to), church new stained glass and restoration services, church painting, and church restoration services as well.
Contact us here at Egan's Church Furnishing and Restoration today!