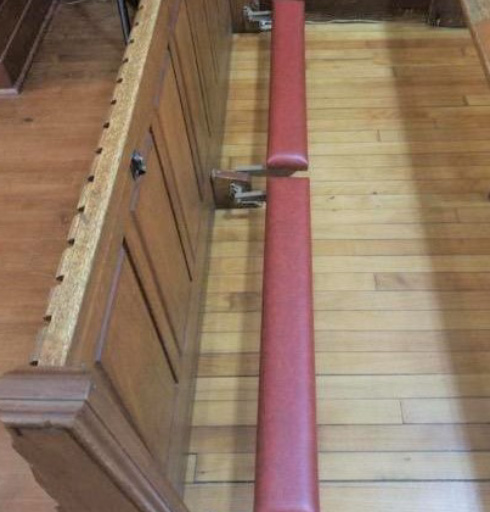 Looking for a reliable service to repair and revitalize your worn Hamlin Kneelers? Egan Church Furnishing & Restoration has provided kneeler refurbishment services for decades now and at a service fee that will not bring you to your knees!
Original Hamlin Kneelers transformed old-fashioned wooden kneelers into sturdy, lightweight, metal construction with comfortable upholstered padding. Churches throughout North America increasingly turn to this brand and style of kneelers due to their flexible nature. We can renew your church's look and feel with high quality replaceable kneeler pads and legs. Hamlin is world renowned for their craftsmanship and materials.
Atwood-Hamlin kneelers as they are known today, are some of the longest lasting kneelers available anywhere. They are made of heavy gauge metal with nylon bushings, rubber shock absorbers, and newly designed integrated rubber foot pads. This all combines for easy and silent operation. As for the comfort, Hamlin Kneelers provide a thick plywood kneeler base, featuring specially formulated non-crumbling Polyurethane foam padding, covered with wear resistant vinyl upholstery in your choice of colors.
Egan Church Furnishing & Restoration would be honored to beautify your church via the highest quality kneeler services available. Contact us here at Egan Church Furnishing & Restoration to get started.