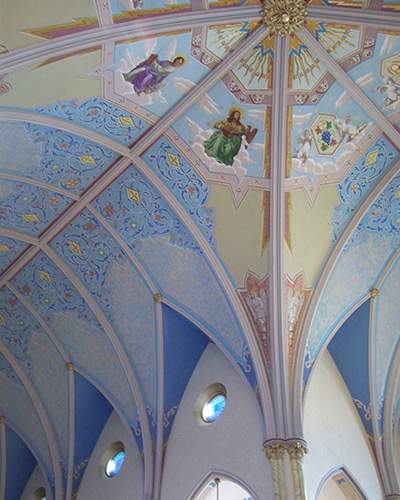 Truly inspirational church painting service results requires contractors with special skill and experience. It requires true artistic skill, not simply the application of paint. It requires someone with a dedicated passion to honor the Holy setting as a professional obligation. We're here to tell you that here at Egan Church Furnishing & Restoration, that is exactly what we deliver.
Painting churches requires a special attention to detail and focused concentration in order to not only cover walls and ceilings but to also preserve the priceless immovable artworks and masterpieces that adorn the church. We are very consistently intensely committed to preserving church heirlooms. We've provided this service as an Egan core competency for over sixty years now. Out on our page you will see fifteen projects that serve as a representative sample of the church painting projects that we have accomplished over the years. Again, these are just a small sampling of our church painting success stories. We will love to show you more personally.
It is our devotion to churches of all denominational faiths to preserve and promote the historical beauty of your church's interior and exterior. Church painting is a form of professional art that we have perfected over the years. We welcome the opportunity to demonstrate to you personally exactly why New England churches have trusted us so often and for so long.
To learn more about our church painting services, contact us here at Egan Church Furnishing and Restoration.