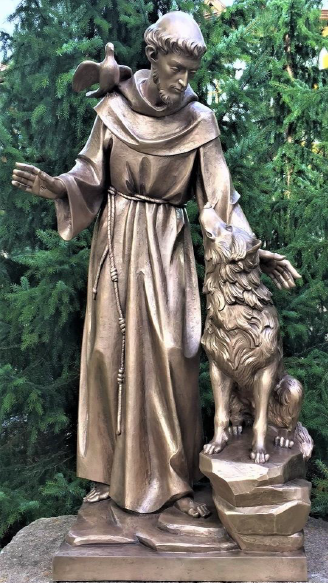 Across the New England states, our bronze and marble statuary commemorates the Holy family and other mainstays of our Christian faith. These heirloom-quality sculptured figures add so much more than physical beauty to your church. Their very presence is a powerful psychological reminder of those that we read, quote, and praise are alive right there within the parish.
Bronze and marble statues give honor and praise to the foundationally important people of our faith. Our world-class sculpturers are themselves inspired by the grace of the characters that they represent via their statuary works. Strategically considered and placed statuary work builds a depth of faith within your community that only increases with time. A Carrara marble statue of Our Lady carved by Italy finest artist will be a presence at your church for centuries. A cast bronze statue of St. Joseph grace your parish prayer garden.
Before we go, we want to invite you to check out our Liturgical appointment catalogs that include works from celebrated artists such as Alviti Creations, Studio Demetz, Regal, and more.
Call us here at Egan Church Furnishing & Restoration to discuss the countless options to beautify your church in ways you never thought possible.